About Us
The Woodforest Commercial Banking team helps meet the needs of our clients by offering products and services in the areas of Credit and Financial Services(1), Wealth Management(1), Cash Management, Merchant Services(2), and more. Our state of the art systems allow us to respond quickly to clients' needs and streamline their processes. Woodforest is a privately owned bank with the Employee Stock Ownership Plan being the largest single shareholder. In the spirit of "true ownership", Woodforest employees strive to offer quality banking service and understand the financial needs of every client we serve. Woodforest employees have a vested interest in your company's success. Woodforest has consistently ranked as one of the top banks in customer service by J.D. Power and Associates. We work with numerous non-profit organizations in all the markets we serve. We are proud to give back to our communities through involvement with the Woodforest Charitable Foundation® and ongoing support of national non-profit organizations including Junior Achievement®, Family Promise®, Ways to Work®, and many others.
Over $9 billion in total assets
Over $5 billion in loans
Over 760 branches throughout Texas, North Carolina, Virginia, West Virginia, Maryland, Illinois, Indiana, Pennsylvania, Ohio, New York, Alabama, Kentucky, South Carolina, Louisiana, Mississippi, Georgia, and Florida
More than 700 branches inside retail store environments
36 freestanding branches located in the state of Texas
Woodforest Commercial Banking and Loan Production offices are located in Texas, North Carolina, Virginia, Indiana, Ohio, and Pennsylvania
Employs approximately 4,300 people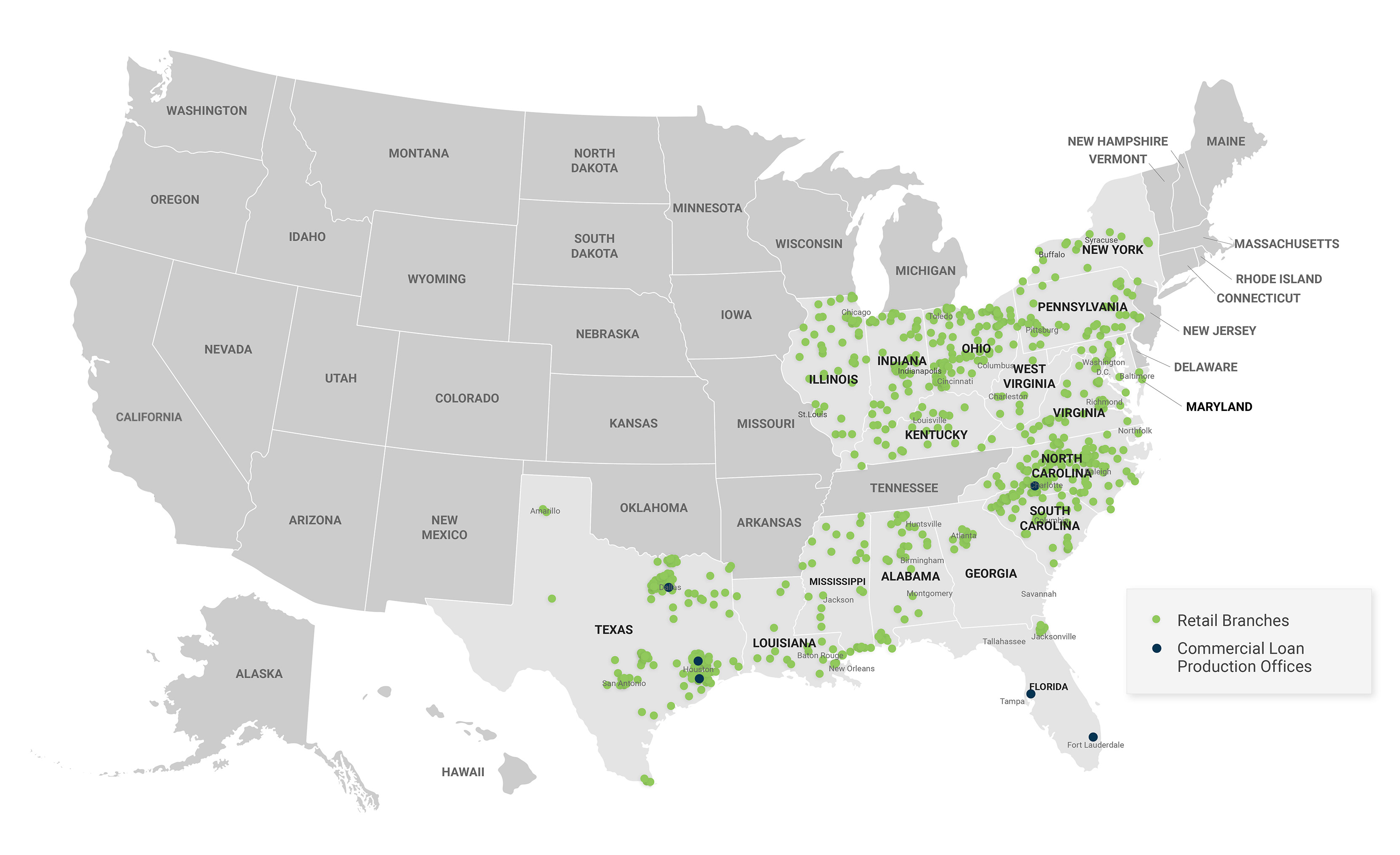 For over 40 years
Woodforest National Bank® has successfully stood among the strongest community banks in the nation, proudly offering quality customer service since 1980.  Woodforest has over 760 branch locations in 17 states and Commercial Banking offices in select markets throughout the nation.
(1) Financial Services and Wealth Management are provided by Woodforest Wealth Strategies, which is a wholly owned subsidiary of Woodforest Financial Group, Inc. Woodforest Wealth Strategies is not owned by any insurance company. Securities are offered through Raymond James Financial Services, Inc., Member FINRA / SIPC, an independent broker/dealer. Investment and insurance products are not insured by bank insurance, the FDIC or any other government agency, are not deposits or obligations of the bank, are not guaranteed by the bank, and are subject to risks, including the possible loss of principal. Woodforest Wealth Strategies and Woodforest Financial Group, Inc. are independent of Raymond James Financial Services, Inc.
(2) Processing services provided by Paysafe Payment Processing Solutions, LLC. as a registered agent of Woodforest National Bank®, The Woodlands, Texas, USA. Applications for services subject to approval.